Every one of us has grown up watching a movie, or a TV show that showcased a vehicle as one of, if not the main star of the show...and every one of us, has at one point or another pined after one of those cars, wishing it was our own to burn up the streets in whatever town we call home.
The following is a collection of my personal favorites from film and television in random order. I hope my kids get to grow up with cars as cool as these...
-----------------------------------------
1981-82 DeLorian DMC-12 (BACK TO THE FUTURE)
Aside from making time travel cool, the DeLorian looked the part of "home made time machine". You could actually look at the car, and believe that Doc Brown had actually tinkered around with a car to turn it into a time travel machine. Even though time travel isn't real, the DeLorian is, and it's awfully hard to fight the urge to buy one.
1982 Pontiac Trans Am (Knight Rider) "KITT"
Back when David Hasselhoff was somewhat cool, you'll remember him burning up the streets in his '82 Trans Am. I'm not sure what it was that made this car cool...of all the "cool" cars, this one is the least impressive looks wise, so it must have been the extensive on-board computer that could analyze anything from footprints to whether or not Michael Knights coffee was regular or decaff. Of course, I'd still kill to have that red light on the front. This car was the original, which later gave way to...
2008 Ford Mustang Shelby GT500KRs (Knight Rider) "KITT"
In 2008, another Knight Rider debuted on TV, and while I'm not a fan of the Ford Mustang, this car was made up to look pretty cool. It also had an "attack mode" that it would use when going into any form of combat, and to add a cheese factor, would from time to time transform into a Ford F-150...a feature I could have done without. Either way, if for nothing else, just because it was another version of KITT made it cool enough for me. (Attack mode seen below...the 4X4 version is hard to find...for obvious reasons)
2008 Ford Mustang Shelby GT500KRs (Knight Rider) "Attack Mode"
1969 Dodge Charge (The Dukes of Hazzard) "General Lee"
If you grew up in the south, no doubt this was every kids dream car. Who am I kidding...I'm 31 and it's still one of my "dream cars." Having personally seen this car up close and personal just makes it that much more desirable. One of my all time favorite shows was "Dukes" and The General Lee is probably in my top 3 when it comes to my favorite cinema cars.
McLaren M6GT Prototype (Hardcastle & McCormick) "Coyote X"
Probably one of the lesser known cars on my list, although one of the coolest. This show was on back in the mid 1980's, and followed a retired judge (Hardcastle) and an ex-con race car driver (McCormick) on their adventures fighting crime. To this day, I'd still love to have this car. It sits really low to the ground, and one of my favorite memories of the car was of it sliding underneath a tractor trailer rig while speeding down the interstate. Way cool.
1966 George Barris Batmobile (Batman)
The original and one of the most well known and loved crime fighting cars in the world. During the run of the TV series, Burt Ward and Adam West had the pleasure of driving this dream car around while fighting crime in Gotham City. I've personally sat in this car, and it is by far one of the coolest things ever. It's based on a 1955 Lincoln Futura and in 1966 Barris transformed it into one of the most beloved crime fighting icons ever.
Staying with the theme...
1989 Tim Burton Batmobile (Batman)
Of the many Batmobiles that have been graced the silver screen, the Tim Burton Batmobile is by far the best. Seen in 1989's Batman with Michael Keaton and Jack Nicholson, and again in Batman returns, this Batmobile rocketed (literally...with a jet engine) itself into cinematic history as one of the sleekest, sweetest cars ever. I've recently found out that you can actually purchase a kit to create you own version of this car...if I only had the cash...This Batmobile deserves another view...below!
-----------
1963 L87 Model 117 Volkswagen (The Love Bug, Herbie, etc...) "Herbie"
Growing up, Disney had a real hit with the Herbie movies. While they were made before my time, my parents were great enough to let me watch them and I fell in love with the feisty little VW bug. To this day, those movies are some of my all time favorites. They just don't make movies like this anymore, and it's a travesty.
1983 GMC JIMMY (The A-TEAM)
Of all of favorite movie/tv vehicles, this one to me is the most attainable. Other than a few little things here and there, this is not really that much of a tricked out ride. There is actually a guy who lives about 5 miles from my house who has had one of these vans sitting out in his back yard for as long as I can remember. I'm not sure what his plans are for it, as it hasn't moved in literally decades, but I think I may go by one day, and ask him how much he wants for it. Some wheels and a new paint job, and walla...I'd have my van! Either way, B.A. Baracus' van was one of the baddest vehicles on the TV set, and always will be.
1977 Pontiac Trans Am Firebird (Smokey & The Bandit) "Bandit"
Watching Bert Reynolds and Jerry Reed bootleg beer from Texarcana to Atlanta couldn't be any more fun than it is in this movie. Reed who plays the part of the truck driver hauls the beer, while Reynolds and his car run interference with the law...hence the name Smokey...If I ever own a Trans Am, it'll be a '77, and I promise...it'll be gold and black.
1967 Pontiac GTO (XXX)
One of the baddest cars in all of cinema. Vin Diesel drove this car in the XXX movie, and boy how I fell in love. Not only did it look good, but it looked good in purple. Which is funny, because purple (in my humble opinion) only looks good on muscle cars. If I were to paint my pickup purple, I'd laugh myself right out the door. This one is on my short list of cars I'd love to have.
1984 Ford Econoline (Dumb and Dumber) "Shaggin Wagon"
Not that it was cool, just darn funny. And in one of the funniest movies ever made to top it off. With the wagging tail, floppy ears and tongue and the leg that lifted in the back to reveal the gas tank, Lloyd and Harry's Mutt Cutts Van was one of the many highlights of such a classic comedy. It may not look as cool, but it shares the same name recognition with many of the other cars on this list. Don't believe me? Just go out and ask someone if they are familiar with the Shaggin Wagon...guarantee they will know Dumb and Dumber.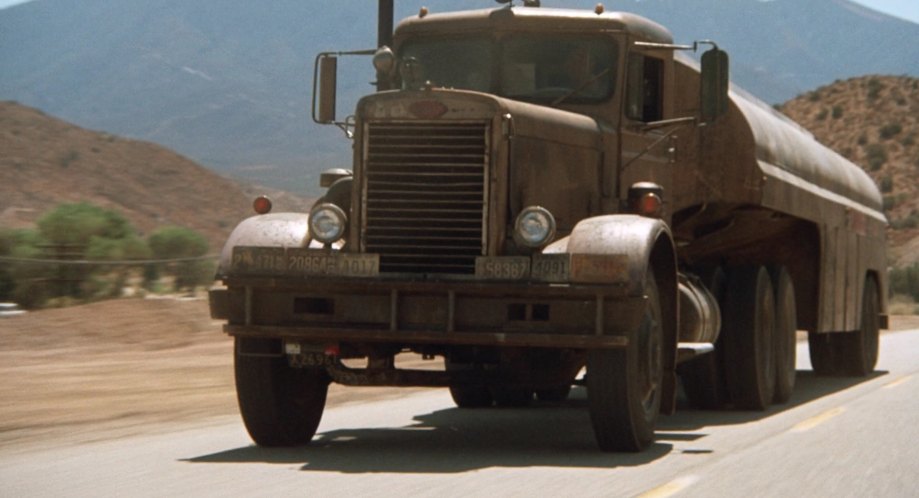 1960 Peterbuilt 281 Tanker (Duel)
Many of you may not even be aware of this truck, but one of the greatest movies in my mind is a movie called "Duel"...it was Steven Speilburgs very first feature film, an is often overlooked in the "greatest movies of all time" lists...at least in my opinion. The film depicts the truck as a "monster" of sorts, as you never see the driver, and with little dialogue, the truck chases a businessman in a Plymouth Valiant in an effort to kill him. In the end, the truck drives off a cliff, but not before you are somewhat freaked out enough to be unconfortable driving on the road with a rig behind you.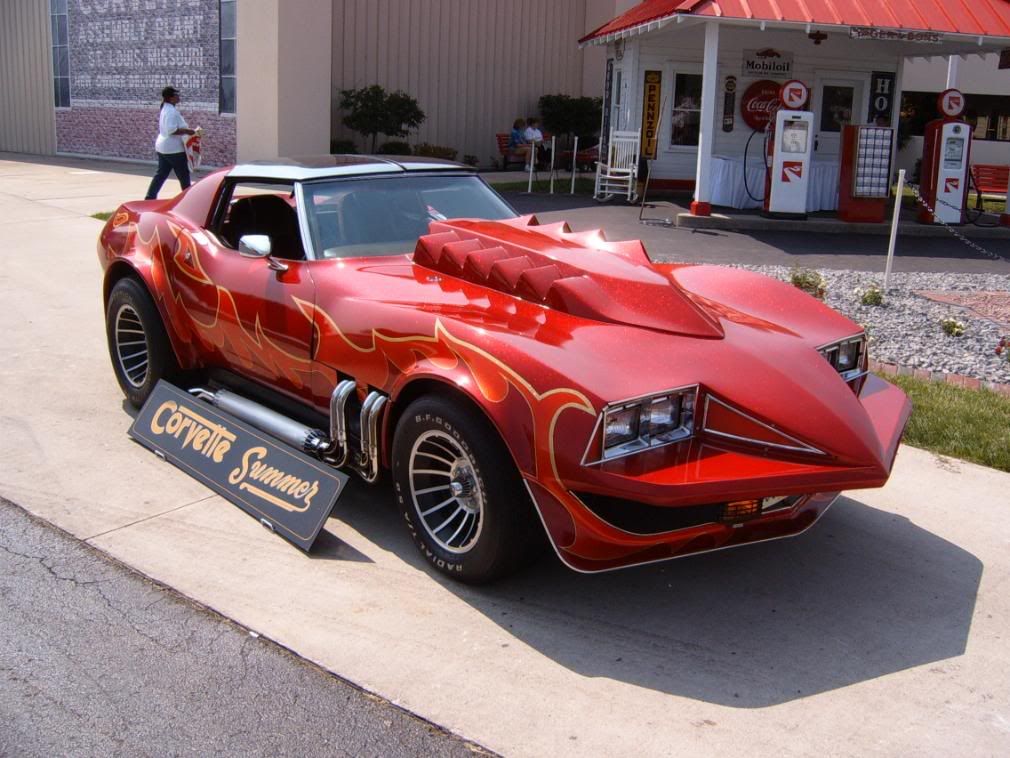 1973 Chevrolet Corvette (Corvette Summer)
Another lesser talked about movie, but a movie none the less built around an amazing car. Mark Hamill stars as a high school auto mechanic student who helps customize a corvette, only to have it stolen and taken to Vegas. The movie follows Hamill as he tries to recover the car that means so much to him. I've sat in this car as it is on display at the National Corvette Museum in Boling Green Kentucky, and I'll say that it was one of those "AWESOME" moments. This car is hard to beat.
________________________________________
There you have it. Some of my favorite movie/TV vehicle stars. If I can think of more, I'll add them, but till then, enjoy this list and I'd love to hear your comments if you feel I forgot a good one!